We help young people in need
Child and youth development in Lithuania
Accompaniment to an independent life
Children-
and
Youth-
promotion
in Lithuania
We help young people in need – accompaniment to an independent life
Our concern
Independence and security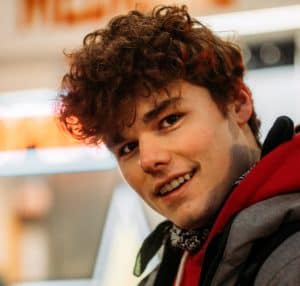 (Image: Youth Camp with PATRIA)
Equal opportunities for young people in Lithuania without an intact parental home.
Education, self-confidence and our accompaniment with warmth of heart are the keys to an independent life.
For over 20 years we have been involved in Lithuania for orphans formerly with "Kinderdörfer in Litauen e.V.".
and for some years for young people after leaving school until the end of vocational training.
Our principle
Personal commitment
(Picture: Godmother visiting Lithuania)
If you wish, you can become personally involved as a sponsor. Many sponsorships have thus developed into a very personal relationship as a mentor or parental advisor.
We work exclusively on a voluntary basis. 100% of your donations will directly benefit the children and young people. Our association is recognized as a non-profit organization.
Our training program for young adults, which we run in cooperation with the PATRIA organization, is based on the principle of "encourage and challenge".
Experienced social pedagogues help the young people to see a perspective and prepare them for an independent life – through regular coaching sessions as well as camps and workshops in our new PATRIA meeting house. They also help our young adults to cope with everyday life and assist them, among other things, in dealing with social services, choosing a profession, applying for jobs or looking for a place to live. PATRIA also offers supervised living for some youth.
How to get involved: With an apprenticeship sponsorship (€30, €50 or €80/month) or an individual donation, you can help supplement the inadequate state support available to young people and give them a realistic chance of receiving good vocational training.
We support underage orphans in the children's villages Marijampole and "Sonatas Namai" through our child sponsorship program (since 2003). We also fund children's heartfelt wishes such as vacation camps, joint excursions, afternoon activities and our popular Christmas campaign. If required, we also support necessary construction measures or the establishment of playgrounds and sports fields.
Continuity and constant further development of our projects are close to our hearts. At the beginning of our work, the main focus was on improving the living conditions in the two orphanages, as the Lithuanian state did not financially support private children's homes at that time. Today, we continue to help with the sponsorship program and with special projects (e.g. purchase of medical aids such as glasses or dentures that are not financed by health insurance).
This is how you get involved: A contribution of 30 €/month for a child sponsorship finances school materials, excursions, afternoon programs and a savings account for later education.

Since February 2022 our association is called "Kinder- und Jugendförderung in Litauen e.V.". Because: for several years now, we have been focusing primarily on supporting the education of young Lithuanians who have grown up in children's homes or with foster parents, and giving them a realistic chance at good vocational training and personal development.
In the meantime, we accompany 60 young people in Lithuania, in cooperation with the experienced youth welfare organization PATRIA in Kaunas.
What sponsors & patrons report:
Join in
Give a young person in Lithuania the chance to get a good education. 100% of your donations will directly benefit the orphans and youth. Because all employees of the association work on a voluntary basis.
One-time for a special project or monthly as a sponsor? Click here to go to the donation page