Dear friends and supporters,
An eventful year is drawing to a close and Christmas is just around the corner. We are grateful that we were able to visit "our" children and young people in Lithuania in September 2023 and, thanks to your financial support, were able to do a lot of good again this year.
With this newsletter, we would like to ask you for a Christmas donation for our annual gift campaign for the 50 children and young people in Lithuania who take part in our programs. We would also like to inform you about the results of our Annual General Meeting, which took place on November 10, 2023 in Kronberg/Taunus.
CHRISTMAS CAMPAIGN 2023
The Christmas campaign for our children and young adults in Lithuania has been an integral part of our activities for 26 years and always brings us and the recipients great joy. This year we have chosen the following gifts:
For the teenagers and young adults in the PATRIA program and in the Marijampole children's village: they can choose between a smartwatch sports watch with fitness and sports functions or a Bluetooth speaker for use with a computer or cell phone. Both are useful appliances that fit within our budget.
For the children in Sonata's house: we received an individual wish list from them with small wishes such as gloves, a soccer or a hairdryer, which we would like to fulfill.
For the hard-working caregivers: a voucher for cosmetic products in recognition of their valuable work
For the PATRIA groups and the families in the Children's Village and at Sonata: financial support for the Christmas parties
We will make sure that all Christmas presents reach their recipients on time for Christmas. We will order the smartwatches and speakers in Germany and send them together with our Christmas cards from Frankfurt to Lithuania. Our request is now as follows:
Please sponsor a gift for your godchild or for a young adult in the PATRIA program and donate 30 euros.
Please write a Christmas card to your sponsored child or to a young person in the PATRIA program ("Dear friend in the PATRIA-program"…), preferably with photo, in English or German. The children and young people are always very happy to receive personal mail from their German sponsors or supporters.
Support the Christmas parties in the two families and at PATRIA or the gift campaign for the social workers with a general donation of your choice .
Ingrid Debald has taken over the coordination of the Christmas campaign. Please let us know by November 30, 2023 whether you would like to support our 2023 Christmas campaign.
Ingrid Debald can be reached at ingrid.debald@web.de or Tel: 069/74309064.
Please send the personal Christmas letter for the sponsored child or young person in the PATRIA program to Ingrid Debald, Lerchesbergring 107, 60598 Frankfurt/Main,Germany)by 1 December 2023 at the latest so that we can send the letters to Lithuania by post in good time
Our account details are:
Kinderdörfer in Litauen e.V.
Frankfurter Sparkasse 1822
IBAN DE14 5005 0201 1200 072 152
BIC HELADEF 1822
We would be VERY pleased to receive broad support for our fundraising campaign for our 2023 Christmas campaign.
GENERAL MEETING OF MEMBERS
Our annual general meeting was held in Kronberg/Taunus on November 10, 2023. It provided a good opportunity to review the old year and plan activities for the new year.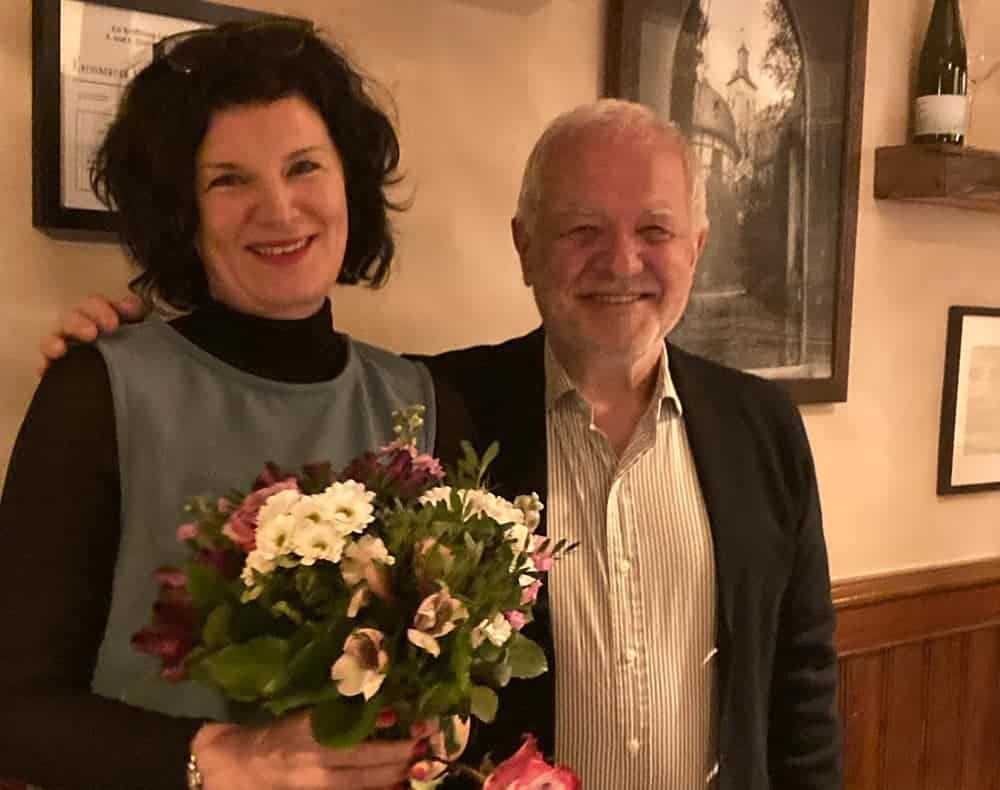 The year 2023 was positively fulfilled:
The monthly Zoom meetings of our Executive Board team were characterized by respectful cooperation.
Jurate and Otmar maintained a lively exchange with the PATRIA team and the foster mother Sonata.
We were delighted that Gabija's lengthy dental treatment was completed and that our protégés were successful in school and training.
Otmar, Ingrid and Jurate's trip to Lithuania in September 2023 was again very important due to the direct contact with the young people and the supervisors and provided us with valuable insights and impetus for our work.
This year's PATRIA youth camp on the topic of "attachment" was particularly helpful in dealing with the injuries from childhood.
In a fruitful team effort, we created a new flyer for our association under the leadership of Simone.
We received generous donations from our loyal supporters and from a private summer party.
Our finances were balanced in 2023. We thanked Christine for her competent work as the association's financial manager.
In 2024, we want to carry on as before. The work of the Executive Board team was rated positively by the members present and our team will remain active in its current composition. The date for the trip to Lithuania has already been set: it will take place from September 4 to 7, 2024. We would be delighted to welcome fellow travelers from among our sponsors and supporters.
We thank you for your trust in our work and wish you a wonderful pre-Christmas period.
With warm regards
Your team from "Kinder- und Jugendförderung in Litauen e.V.".
Otmar Debald, Jurate Bogacz, Ingrid Debald, Christine Scheidt, Verena Nacke, Simone Graubner-Müller, Susanne Welsch-Lehmann and Frank Welsch-Lehmann