Dear friends, sponsors and supporters,
At the beginning of September 2021, three members of the Board of Directors – Otmar and Ingrid Debald and Jurate Bogacz- traveled to Lithuania to visit the Children's Village in Marijampole and the new PATRIA Meeting House in Kaunas, as well as to meet the children, youth and caregivers there again. Please read the detailed report of their trip here.
Due to Corona it took two years until we could travel to Lithuania again in early September 2021. While we have learned during the Corona period to work very successfully virtually with our partners in the field and with the young people, nothing can replace face-to-face interaction. So we – Jurate Bogacz, Ingrid and Otmar Debald – flew to Vilnius with great anticipation on September 1st and visited first our children's village "Vaiko Teviskes Namai" in Marijampole the following day and then the new PATRIA meeting house in Kaunas.
Only 13 children still live in the Marijampoles Children's Village, most of them are of adolescent age. Unfortunately, we only had a few hours to talk there and could not meet any of the 13 children still living in the village, as they were all still in school. We will report on the situation and future prospects of the Children's Village in a separate report. However, according to the new director Odeta, the children are doing well. All children were able to travel during the summer vacations thanks to our financial support. We have assured that renovations we have funded have been made to the houses and we have agreed to fund Christmas gifts and a Christmas party as we do every year. More on this in the Christmas newsletter coming soon.
In Kaunas we were able to use the newly renovated "PATRIA Youth Meeting House" for the first time for the PATRIA Camp. Following our visit to Marijampoles Children's Village, we continued to Kaunas to prepare the camp with the young adults of our PATRIA program. The setting for the camp this time was very different from two years ago. At that time it was held in the open-air museum in Rumsiskes. This time we used for the first time the newly renovated Youth Meeting House in Kaunas for the meetings with the young people, which was a great pleasure! 12 years ago, we had generously provided financial support for the purchase and furnishing of the two Children's Village houses in Kaunas. When this use was no longer possible due to the conversion of orphan care to small family units, we developed the concept of the youth meeting house together with PATRIA and realized it with the help of donations.
The PATRIA team did an excellent job of converting the first Kaunas House to suit its use. Now up to 20 young people can meet there, take part in workshops, talk to the counselors and also spend the night. The former living room became a cozy meeting room and there is a separate room for the caregivers. This year's camp was a successful "baptism of fire" for this concept. The house creates a very personal and familiar atmosphere in which individual conversations, group work and also entertaining activities work well.
Already the first evening of the PATRIA camp was full of moving moments. We had invited more than ten young adults who have already finished their PATRIA program, as well as some young people who could not participate in the camp or who are still about to start the PATRIA program. The exchange of "PATRIA alumni" with each other, with the young people still in the program and with the applicants for support is very important for the sustainable success of the program. All participants reported on their experience, development and further plans.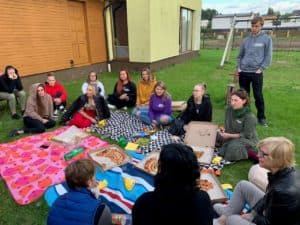 It was wonderful to see and feel how the young people, some of whom we have known for many years, have matured into self-confident, independent and professionally successful adults. Many participants have confirmed that the support from PATRIA and the associated scholarship have helped a great deal. One of the participants, Ramune, who comes from the Marijampole Children's Village and is now training to become a senior police officer, described to us and her godmother after the meeting in very moving words how much our personal support means to her. The very first participant in the Patria program 6 years ago, Joana, gave a training the next day on how to write job applications. She did a very professional and sound job. We are proud that so many young people are involved in PATRIA's work.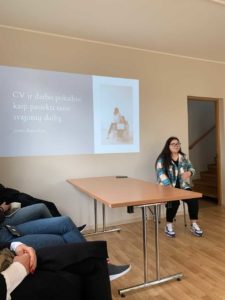 This time we also had extensive opportunity to have conversations with the four social workers Inga, Kornelija, Evelina and Indre from PATRIA, to get to know them better and to talk about their approach to care. We also learned a lot about young adults in the conversations. Each one has its own story. And that's what the Patria program is all about. It is not a standard program (one size fits all), but a personalized approach for each individual participant.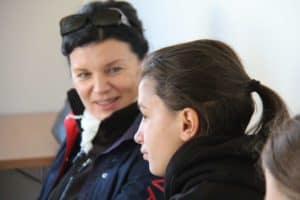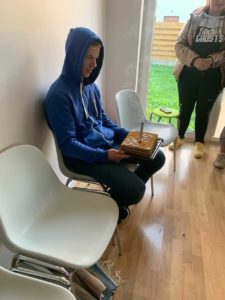 On the following two days, the actual camp took place, a good mix of productive workshops, group discussions, sports activity and fun. All participants and some PATRIA supervisors spent the night in the house. The camp began with conversations in a large circle, in which we participated. Talking about feelings in front of many people is a test of courage for some young people. While the female participants handled this well, most of the young men had a hard time talking about themselves. This was to change in the course of the camp.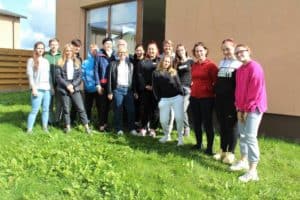 For us, the joint conversations are an opportunity to address issues that are important to us and to seek a bond with the young people. Otmar told about the history and the vision we had back then with the construction of the Children's Village houses in Kaunas and about how important it is for us now that PATRIA now has a meeting place here. Jurate shared stories from PATRIA alumni and encouraged participants to look to role models and trust people who want to help them. Then there was coaching training from an experienced Lithuanian trainer. This was about resilience and building self-confidence. The impressions were discussed and deepened in further discussion groups. A dance lesson with a Lithuanian folk dance group was particularly entertaining. We learned and danced traditional dances together for over an hour in the courtyard of the two Kaunas houses. The joint dinner then heralded a long party evening in which we deliberately did not participate. Apparently, the mood was excellent until deep into the night.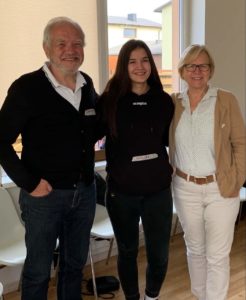 After the morning discussion group, everyone then went together by bus to a high ropes course about 1 hour away. The climbing garden is very large, diverse and adventurous, with treetop trails, zip lines, adventure slides and much more. Here the young people could spend a few hours. Such athletically challenging activities release strength and boost self-confidence. Fortunately, everything went off without an accident. At the end, there was a barbecue and an opportunity to share the experience in a round of talks.
Overall, the PATRIA camp was a great success. The new PATRIA meeting house has proven itself as a place of encounter and the young people have made good progress on their way through the camp. We took away lasting impressions in many conversations, deepened our relationship with the PATRIA team and hopefully made a positive impact on many young people. Every minute of this trip was time very well spent for us.
We are grateful and pleased that the PATRIA program has proven to be outstanding.
At dinner we discussed the experiences and the results with Rita Skriadaite, our Lithuanian project manager, thanked her for her excellent work and toasted to "keep it up". As described above, the PATRIA program has developed and proven itself excellently over the past years. We look forward to continuing it together with the PATRIA team and hopefully accompanying many more young people on their journey from institutional orphanage education to independent adult life.
A short visit to Vilnius on Sunday morning rounded off the trip for us before our return flight. Vilnius shows how the country has developed since our first trip in 2007. The city looks like a modern European city without denying its deep historical roots. Nevertheless, there is still much to be done, especially in youth services. We want to and will make our contribution to this.
Many thanks to our sponsors, supporters, donors and friends who support us in our youth work in Lithuania. We could not do this without you. We hope that some of you will join us on the journey next year. It is expected that this will take place again at the beginning of September.
A hearty "Aciu" and love greetings
Jurate Bogacz, Ingrid and Otmar Debald
Association "Children's Villages in Lithuania e.V."