The beginning
Support for orphans
Since 1997 we have been supporting and promoting abandoned children and young people in the children's villages "Vaiko Teviskes Namai" in Marijampole and Kaunas. Initially with clothing transports and Christmas campaign, then with sponsorships, afternoon programs and investments for the children's villages.
Since 2014
Training support
In the meantime, we provide future prospects for the children after they leave school. Our new focus is the "Training Program for Young Adults", in close cooperation with the youth welfare organization PATRIA in Kaunas.
After graduation from school and coming of age, the state withdraws from welfare – with the result that young adults without family support are left on their own in the important phase of vocational training. And again experience the "being abandoned". This is where we help.
01.
Training young adults with PATRIA
03.
Christmas and Emergency Medical Aid
01. training program with PATRIA
Our training program is designed for young adults between the ages of 18 and approximately 24. They receive good professional training and coaching on all life issues.
Currently, around 60 young people are supported by the PATRIA program. With your financial support, you enable these young people to lead a self-determined life.
General training sponsorship Principle "Encourage and challenge
Without personal assignment to young people.
50 € per month – stipend to support everyday life.

Duties of the trainee: Monthly consultation meetings with the personal PATRIA supervisor, agreement on training steps, proof of attendance at classes, proof of use of the stipend.

30 € per month to finance the social pedagogues of the PATRIA organization for the regular coaching meetings and the accompaniment in everyday life e.g. apartment search, visits to authorities.
Financing of tuition fees
The application process and interviews to cover tuition fees are handled by our partner organization PATRIA.
Personal training sponsorship
You are interested? We would be happy to arrange a relationship between you and a trainee for whom you can take on a personal training sponsorship. You make the relationship as tight or loose as you like:
Personal contact with the young person in the PATRIA program – whether on a regular or sporadic basis.
Support and accompaniment in the sense of mentoring
Of course, as a small organization, we are always available to answer questions and provide tips.
Assisted living
The PATRIA team runs an apartment where young adults can live for a limited time directly after leaving the orphanages, where they are prepared for an independent life.
We close funding gaps in individual cases to ensure that this housing unit can be operated sustainably.
Activities at the PATRIA Meeting House
Since the summer of 2021, there has been a PATRIA Youth Meeting House in Kaunas, where weekend workshops, training events and recreational activities for the young people take place.
It was established in the former Children's Village houses in Kaunas, our association made a financial contribution.
Activities at PATRIA Camp
Once a year, we finance a training camp lasting several days for all young people who are sponsored under the PATRIA program. The camp consists of coaching sessions to build self-confidence, targeted training sessions, group discussions and recreational activities. Members of the Board of Directors will also participate in the camp. We encourage our sponsors and supporters to travel with us to Lithuania and get personally involved in the camp activities
02. programs for the support of minor children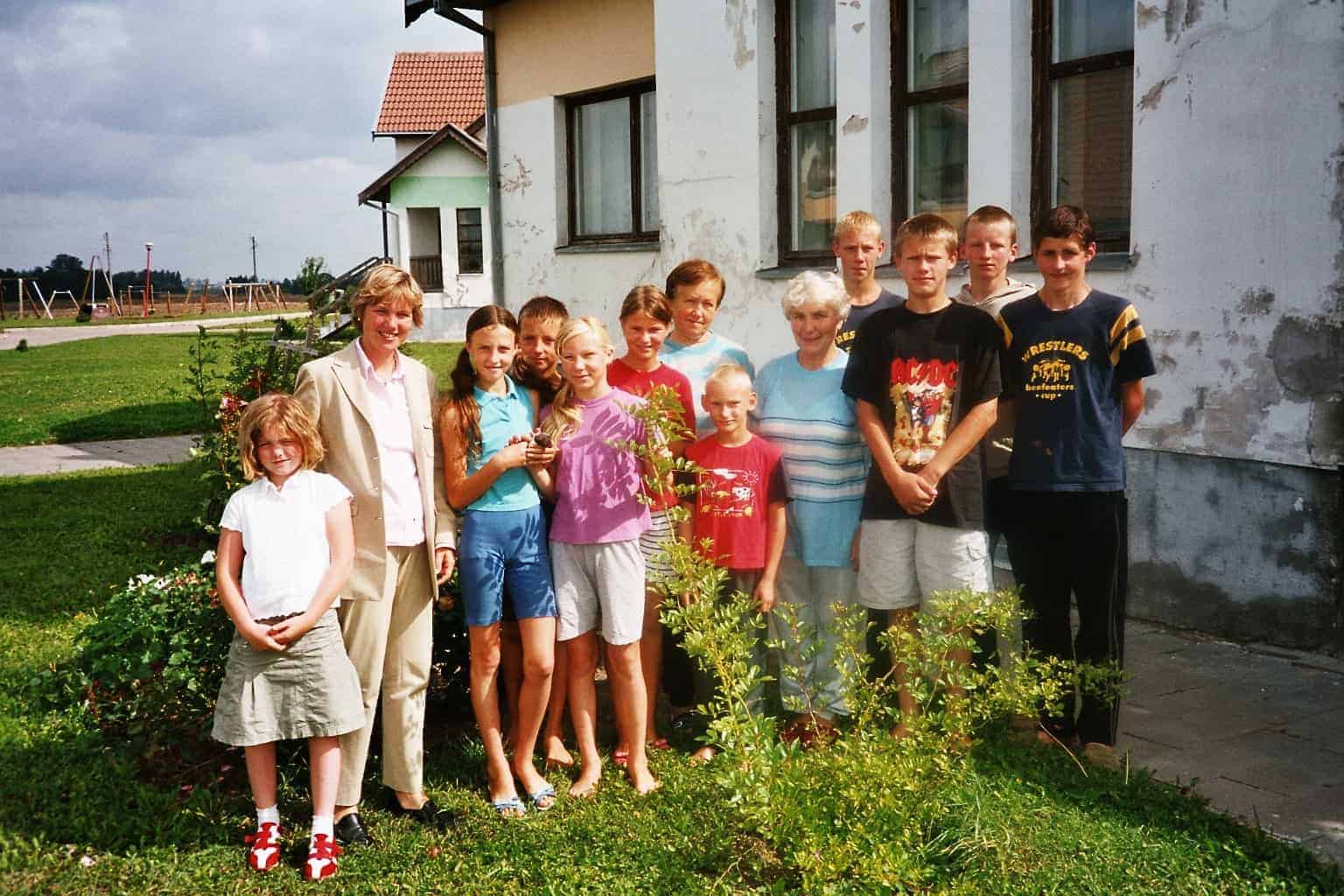 Personal sponsorship
Personal sponsorship for children living in the children's village "Vaiko Teviskes Namai" in as well as in the family care facility "Sonatos Namai" in Marijampole. For the monthly sponsorship contribution of €30, the institution buys personal items (clothes, toys) and saves €5 per month, which is paid to the child as seed money when he or she comes of age. We expressly welcome the fact that the sponsors also develop a personal bond with the sponsored child. This ranges from writing a Christmas card to a personal visit during one of our trips to Lithuania
Vacation camp
We finance vacation stays for the children and their Kinderdorf families, as this is not covered by state funding
Structural measures
In individual cases, we also provide support for construction measures that are directly beneficial to the children (e.g. playground construction, nursery facilities).
03. general projects
Annual Christmas promotion:
We have been running an annual Christmas campaign since 1998, which has since brought much joy to both sides – the givers and the recipients. We give a Christmas present to every sponsored child, every young person in the PATRIA program and all employees in the institutions we support in Lithuania and finance a joint Christmas party. At the beginning of November, we inform our sponsors and supporters about the Christmas campaign and ask them to donate and/or send a personal Christmas letter for their sponsored child or a youth in the PATRIA program.
Emergency medical aid
Emergency medical assistance: we have set up a special fund that can only be used for medical assistance. This includes medical procedures not funded by health insurance, preventive care, cosmetic procedures (especially dental corrections) and psychological care in special cases.
Join in
Give a young person in Lithuania the chance to get a good education. 100% of your donations will directly benefit the orphans and youth. Because all employees of the association work on a voluntary basis.
One-time for a special project or monthly as a sponsor? Click here to go to the donation page