Dear friends and supporters!
At the beginning of September 2022 Jurate, Ingrid and Otmar from our board team experienced four intense, moving and fulfilling days in Lithuania. Otmar's positive conclusion of the trip is: we are on the right track with the PATRIA program! Thanks to your financial support, dear supporters, we reach many young people and thanks to the passionate work of PATRIA, they receive comprehensive coaching for their personal development and educational path. And also our children in Sonata's house in Marijampoles are doing well and are happy about our help.
Read Otmar's entertaining travelogue now.
VISIT OF THE CHILDREN IN MARIJAMPOLES
First we visited the nine children and teenagers in Sonata's home and their loving caregivers. A few years ago, 5 siblings from our Children's Village in Marijampoles were transferred to Sonata's home and that is how we came in contact with her and her foster family. In the meantime, all nine children are participating in our sponsorship program and we are in close exchange with the foster mother Sonata and her loving team. Unfortunately, we have little contact with our children's village in Marijampoles, where only a few children still live and which will probably be closed as soon as these children have grown up.
The children were happy to celebrate the start of school with us on September 1 – this is a very important day in children's lives. We therefore invited the family to a restaurant for lunch. This was a wonderful experience for the kids, because going out to eat with the whole family and staff is something the family usually can't afford. Afterwards, we went to the family home, talked to Sonata and the staff there about our support, and then played with the children in the garden and took pictures.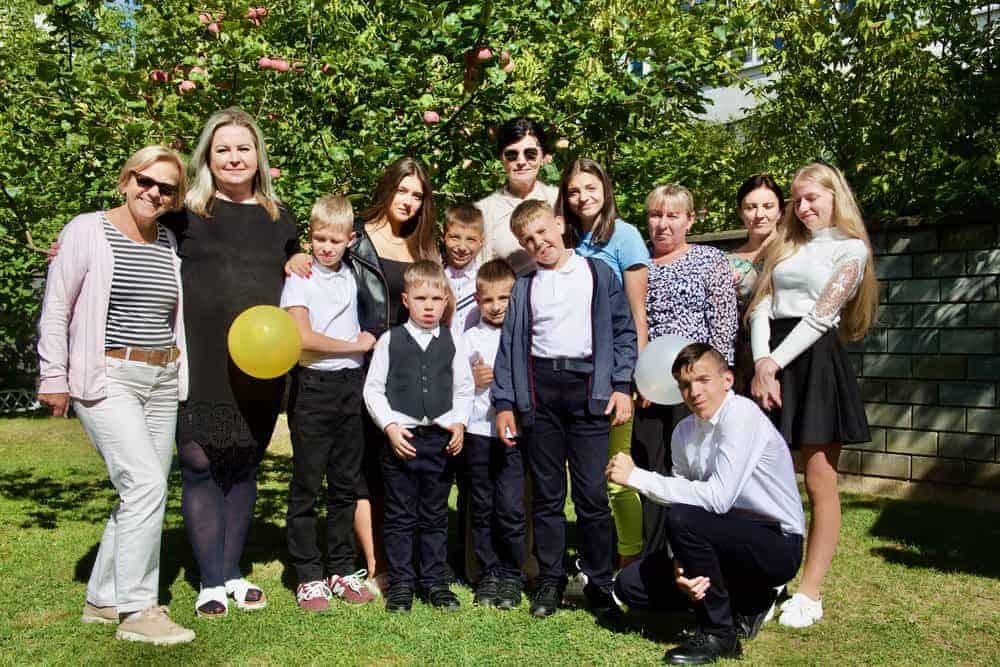 This year we supported some projects in Sonata's family like vacations at the Baltic Sea, a big dental treatment and important purchases.
Trip to the Baltic Sea: Without the support of our donors, the family would not have been able to afford a vacation trip to the Baltic Sea. Sonata showed us photos of the stay and reported that after the Corona time the carefree vacation days at the sea were very important and relaxing for the children.
Dental treatment: Then we supported the costly dental treatment of 17-year-old Gabija. This is currently our largest project, which we are financing from our medical aid fund with € 3,000. Gabija is very happy about the treatment. She beams when we talk about it with her and her self-confidence has grown noticeably.
Initial equipment: We were also able to provide Sonata with money for initial equipment (for clothing and school supplies) for children who are newly referred to her by the Youth Welfare Office, as the state is less able to provide assistance due to high inflation.
Savings: Sonata's accounting is very neat. She has set up savings accounts for each child with a portion of the sponsorship money. This money is used for special purchases and the remaining sum is paid out as start-up capital when the child reaches the age of majority.
Our conclusion: Spending time together with the children from Sonata's house gave us a lot of joy and was also a special experience for the children. The children quickly came to trust us and enjoyed the attention. It is this emotional closeness, the possibility to contribute ourselves, that characterizes our work as a small organization and distinguishes us from anonymous large organizations.
PATRIA PROGRAM IN KAUNAS
The second stop on our trip was for the PATRIA program in Kaunas.
First we had a meeting with the PATRIA team about the development of the program in the last year . Currently, almost 40 young people are actively participating in the PATRIA program, PATRIA's target is 60 – the need is there and our training program is becoming more and more known in the greater Kaunas area. We are very happy that Rita and Inga have been leading the training program from the beginning and until today. This ensures continuity and constant further development based on experience. Rita told us that other organizations in Lithuania already have copy our training program. We gladly take this as a compliment and confirmationthat the concept developed together with Patria works. The state is now also developing youth services programs, so in some communities, funds and resources are also available for youth services.
Fifteen young people participated in the PATRIA camp, including new and familiar faces. From Thursday afternoon to Sunday we were at the PATRIA camp, which was held in the former Children's Village houses in Kaunas, just like last year. We had built these with association funds more than 10 years ago and PATRIA has been allowed to use the two houses for its youth work since last year. At the opening of the camp we saw some young people who participated for the first time: Leonardas, 19 years old, very reserved, with polite manners. He is a very talented singer who has already had television appearances and wants to train as an opera singer. And Ema – she is already 24 years old and is now catching up on studies that she would have wanted to start much earlier. We also saw familiar faces, like Paulina, who comes from Marijampole Children's Village and whom we have known since she was a child.
The camp began with a "circle of chairs". All participants introduced themselves and talked about their expectations from the camp. Otmar took the opportunity to tell the story of the Kaunas houses. Jurate encouraged the youth to get involved and speak openly. Many young people found it difficult to open up. It still took some time for them to thaw out and talk about themselves.
In the late afternoon, we were joined by the alumni who successfully completed their training program. We ordered pizza, sat on the patio, and the alumni talked about their development, what participating in the PATRIA program has meant to them, and why they came. This exchange is very important because it creates an atmosphere of trust and allows role models and incentives to emerge for the new participants.
Saturday was workshop day. There was dance therapy and a humorist told about the power of humor as part of a conversation. We were especially proud of the presentation by our former PATRIA protégé Akvilé. She gave a kind of lecture on social media. From this, an intense discussion developed about how harmful excessive use of social media can be. In the evening Jurate and Otmar were also allowed to contribute to the workshop program and there were lively discussions.
On the last day, Sunday, there was first a morning circle. The youth were asked to talk about what inspired them about the camp and what they would like to change for themselves now. Not everyone found an answer easy, but the discussion was considerably more lively than at the beginning of the camp. Many young people let it be known that we had reached them with our talks. Ema, for example, said that she would like to become more tolerant and more open to compromise. Hyperactive Evelina had learned to be self-aware of her emotional outbursts and got some advice on how to act when she gets on others' nerves….
VISIT OF AN ALPACA FARM IN TRAKAI
At the end of the camp we went by bus to Trakai, about an hour away, where we visited an alpaca farm. We were allowed to feed, pet and play with the 40 cuddly animals. This workshop element also pursued a goal. The young people were able to detach themselves from the often stressful workshop atmosphere and the close animals gave them a pleasant relational experience and satisfied the need to feel care for a living being. Many photos were taken with relaxed gestures and faces. The relaxed mood carried over to the final lunch at a restaurant in Trakai.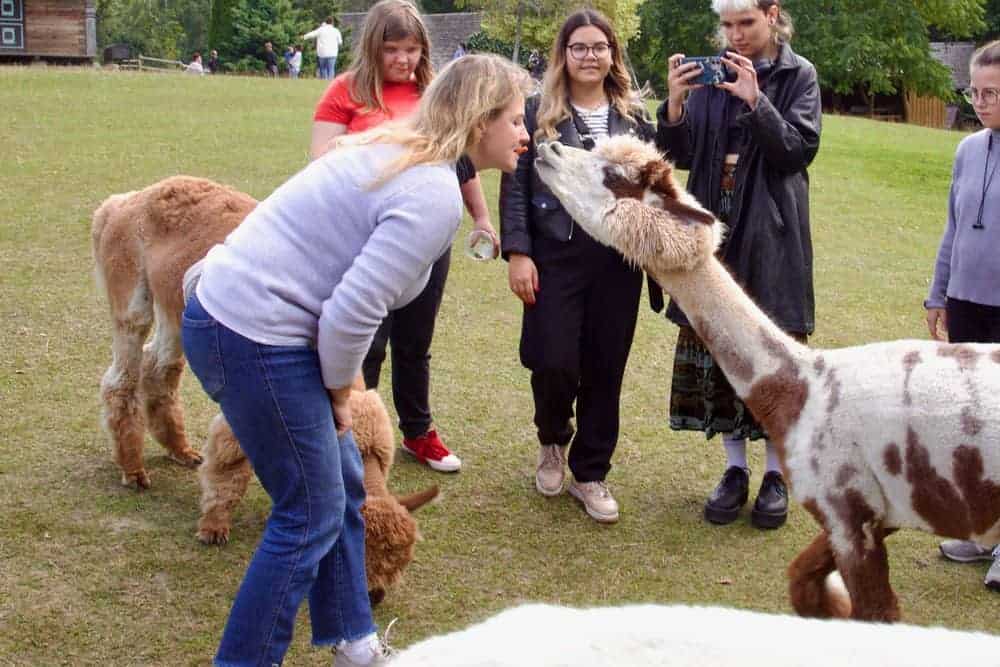 The farewell was extremely warm and touched us all. We felt that the young people had made a lot of progress as a result of the PATRIA camp. Many did not know each other before. Now you could see that they have made new friends – like-minded people with a similar past. We also realized that we had reached the young people. Some came up to us, asked us questions or explicitly thanked us…or just hugged us as a sign of connection.
OUR CONCLUSION OF THE TRIP TO LITHUANIA
We are very satisfied with the course of this year's Lithuania trip. We have convinced ourselves that our support of the children in Sonata's house in Marijampole is effective. It was a great pleasure to celebrate the first day of school after the vacations with the children. The PATRIA camp has again shown that the training program has proven its worth in the structure it has built up over the years. It gives young adults guidance and incentives to develop far beyond what they think is possible for themselves. Confirmation that the training program is working comes from the alumni, some of whom have been returning for years and are involved in PATRIA's work…and make us proud.
For us, only one wish remains open…and that goes to you, dear supporters of our work. We very much wish that next year not only the closer board of directors will travel to Lithuania, but that once again, as in previous years, we will be accompanied by people who themselves want to experience the magical atmosphere of a PATRIA camp, who want to get involved in the work with the young people, and who, along the way, want to visit a wonderful, small, but emerging country. We will announce the date for the trip to Lithuania at the beginning of 2023, so you can plan in time.
Many sincere thanks on behalf of the many hundreds of young people we have supported over the past 20-plus years,
Yours Ingrid and Otmar Debald and Jurate Bogacz
and the members of the team
Children and Youth Development in Lithuania e.V.